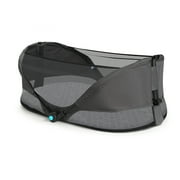 On the go? No need to plan your day around naptime with the SafeFit® Travel Bassinet. Lightweight, durable, and safe, this bassinet is super easy to pack, carry and set up. It's so simple that you can have naptime anytime. Whether your plans include a picnic, a cross-country adventure, or a day at grandmas, you can be secure knowing that your most important priority is safe and snug.
Fit Travel Bassinet
Durable, safe, and lightweight travel bassinet
Mesh panels, breathable fabric, and a locking frame provides both comfort
Four-point Safe-T Lock System for safety and security
Durable locking tubular steel frame is strong and durable
Mattress is removable and sheet is machine washable for easy cleaning
Maximum weight limit 15 lbs.
Customer Reviews
Safe and portable bassinet option for on-the-go!
I had the opportunity to try Munchkin's SafeFit Travel Bassinet, as I have a newborn daughter at home. As a mom constantly on the go, I am always looking and for ways to make traveling with my two children more convenient. I absolutely love how compact the SafeFit Travel Bassinet presents, as it folds flat for easy storage in the home or in the car. This product is simple to manipulate, as the single unit pulls open with ease into its anticipated shape. The four-point safety locking system and double-locking tubular steel frame ensure that the product is locked into position and secure. The Munchkin SafeFit Travel Bassinet features a thin pad and sheet to support baby. I do wish the pad was slightly thicker with more support; however, this is personal preference. The bassinet is easily washable and the sides are made of breathable mesh for safety. I find this product just perfect for diaper changes and naps on-the-go. I love how lightweight and portable this bassinet is, as I am always out and about with my children. Closing the SafeFit Travel Bassinet is super easy, as it is a matter of push-and-fold at the locking joints. A velcro strap adds extra assurance that your bassinet remains closed. This product supports infants up to 15 pounds. If you are looking for a portable, lightweight and safe solution for diaper changes and/or naps while traveling near or far, the Munchkin SafeFit Bassinet is a solution you are sure to love! I received this product in exchange for my honest feedback.Hayleyc925

This bassinet is perfect for having baby outside or (someday) at a friend's house. It folds up very compactly, is lightweight and easy to carry, and baby seems comfy inside. We like the mesh sides so that there's airflow but bugs are kept out (at least from the sides).Jennifer

We used this for my four month old when we spent the day on the boat. I can't believe how compact and lightweight this is! My only wish is that I would've had this sooner! She's about to outgrow it already. This is a must if you are traveling a lot.
You may also be interested in